Tuesday, July 28, 2015 11:31:01 PM America/New_York
It's the end of July. You're officially over your parents 11 AM wakeup calls, your hometown local watering holes, and maybe even your Mom's homecooked meals. Schools right around the corner and, infinitely more exciting than the first day of classes is the first day of college football season and, with that, tailgating. So to get you excited, and prepared, for tailgating season, we here at College Tanks put together a short guide for all of you.
Plug In Your Phone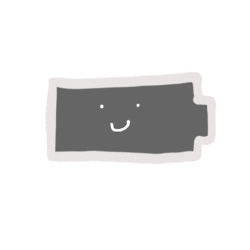 As exciting as watching your squad destroy the creampuff Division 1-AA who is visiting your Big Ten university, you may want to keep track of the major SEC/ACC matchup happening elsewhere. Or, if you're one of the fans that don't venture beyond the tailgate yards, you'll need it just to find out your school is experiencing the biggest upset in modern football history. We're looking at you, Michigan circa 2007.
Pro tip: invest in a battery pack. You'll never experience red battery level anxiety again.
Don't Do the Body Painting Thing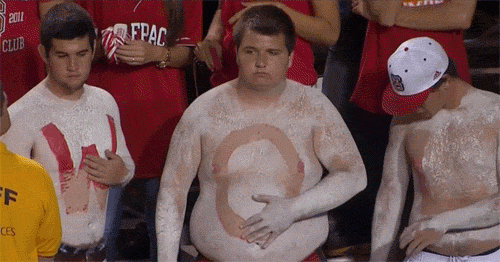 Just don't. We get that you're trying to show your support in solidarity with five of your frat bros and you want to tell everyone that you "put the G in Gators," but there's maybe a 5% chance you and Stink and the rest of you guys will actually get put onto television, and then you just look like a huge tool once the 2nd quarter starts and you start getting sweaty since, yanno, it's Florida in September.
Bring Enough Seating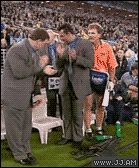 If you're sitting on a cooler, you're not allowed to be upset when people ask you to get up every 12 minutes. Or, even worse, on a 30-rack of college town beer. Bring a fold out chair.
Potentially dangerous pro tip: Bring a bunch of chairs. Declare one the "Boom Chair". Anyone who sits in said Boom Chair is then allowed to be tipped over.
Don't Go Shirtless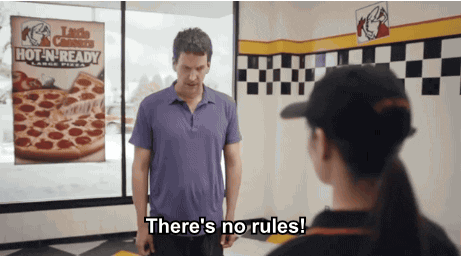 If you want to show off the 2 months you've spent in the gym and eating clean, just do the sensible thing and, you know, wear a tank top supporting your school. Cuz sleeves suck. Wear a tank.
Pro Tip: Buy a tank top from College Tanks. Duh.
Wednesday, June 17, 2015 11:16:54 PM America/New_York
Summer Fling With The One That Got Away From High School
You know who we're talking about. You sat next to each other in Spanish class and constantly flirted in Spanglish which, ya know, technically is half a romance language. You would blush when your friends brought up the possibility of you dating as you both insisted you were just good friends. You ended up going to rival colleges and, outside of the occasional inside joke Facebook wall post about Señora Boyd, you haven't seen each other in 9 months. Then, at the first big party back home over the summer, you guys bump into each other. Drinks flow, sparks fly, and boom! Next thing you know, you're reliving Grease.
Hit the Gym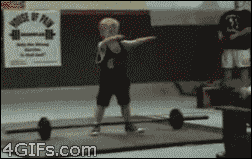 You had a great year. Hanging out with friends, going to parties, late night delivery from that pizza place with a name that implies drug use…but the beer and Mellow Mushroom pizza calories add up and you've put on a little weight. You're not fat…you just have a little more to love. Many gyms offer deals for college students back for the summer. Just don't forget to cancel before you head back to school, those corporate gyms are worse than your future student loan collection agents when it comes to making sure you act like a Lannister and pay your debts. After 4 months with the right workout routine, you'll be turning heads once you get back on campus, rocking your College Tank.
Get an Internship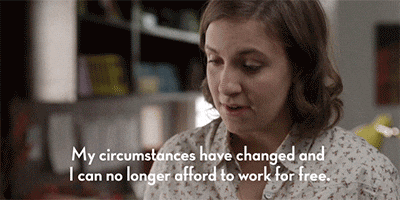 The job search has become a catch-22 process of you needing experience to find a job, yet you need a job to get experience. You're in a position where you have plenty of free time and little, if any, expenses. By finding an internship you have something to bolster the resume that will differentiate you from the other applicants that are waking up at noon and playing Call of Duty all night and, in this day and age, every edge you can gain helps.
Binge Watch A Show…or Eight
It's fun. It's free (we all know there's only like, 18 Netflix accounts out there split among all of us). There's enough good content to keep you entertained for the summer. Trust me, you want to get this done over summer rather than waiting until the school year. We at College Tanks had friends fail out of college because they bought the "Lost" box set.
Hang out with the Family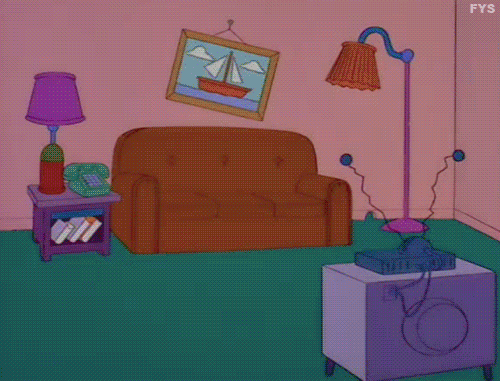 You've matured. It's not like high school anymore where parents are sometimes viewed as the enemy. You've made it through another year of school and they're starting to see growth, and treating you more like a peer than a child. And you'll start treating them more like peers than authority figures. And you'll realize that…they're actually pretty cool people! So take some nights off from your high school friends and spend some time with them, it would mean the world to them and may turn into a pretty fun night.
So congrats on making it to summer. But don't let it go to complete waste. Keep yourself busy with family, a (likely unpaid) job, and the gym. And maybe you should brush up an little on your Spanglish before someone throws the first big summer party.
Wednesday, June 3, 2015 12:14:11 AM America/New_York
This kid is an absolute legend. Chris Norton was injured in October 2010 while playing football for Luther College, suffering a severe spinal injury. Doctors told him it would be unlikely that he would ever walk again. Chris, however, didn't like that outlook and decided to take things into his own hands. He continued his intensive rehab in addition to his intensive studies and took his first steps in nearly half a decade on the biggest stage of all...his graduation. We can't explain it half as well as his video, so we'll let him give you the details:
To learn more about Chris and his foundation please visit http://www.SCICANFoundation.com
Wednesday, May 20, 2015 11:22:20 AM America/New_York
Mid-May. It's the most bittersweet time of the year. You've waited in line at the bookstore to pick up your rental hat and gown ("Wait, I have to return this thing?!"), probably longer than necessary because you, like everyone else with a crippling case of senioritis, waited until the last possible day. Your family has visited and paraded you around school, while wearing said rental items, forcing you to take photos in front of campus landmarks (again, waiting forever. Can you believe that this many UF Delta Gammas want to take their pictures on the 50-yard line of The Swamp?!) You've gone through your school bucket list with your friends, frantically trying to cross the last few off (The Great Indoorsman, I'm looking at you) before a plane ticket is a requirement to visit your favorite late night food joint. Yes, it's the time of the year where and your peers must rip off the sleeves of the thrill that is college life and are bestowed the tank top of responsibility that is the kinda-sorta-not really adulthood of post-graduate life.
But, of course, there's one more ceremony between you and the end of your academic career: graduation. Normally portrayed as a 3 minute, feel good conclusion to a movie starring 32 year olds trying to pass as 17, graduation ceremonies tend to be long, self-aggrandizing and, overall, a waste of the money Sallie Mae gave to school on your behalf. "A waste of money?" you ask. Yes. Schools are forking over more than $50,000 to have an actor, politician, or, god forbid, an author come and give a 15 minute speech that will supposedly enlighten you as you enter the beginning of the rest of your life. $50,000! That's a year's tuition...or alternatively, if you went in-state, a whole academic career's (with some wiggle room for the victory lap year) tuition! Is it worth it, ever? Well, we here at College Tanks have gone through every commencement speech, ever, and have found three, and only three, where the answer may actually be yes.
Charlie Day's Merrimack College Commencement Address
With his character being so ludicrous in "It's Always Sunny In Philadelphia" it's easy to forget that Charlie Day was a 1998 graduate from the prestigious Merrimack College in North Andover, Massachusettes. I'm just surprised his advice to all these graduates wasn't to have them put on their job helmets, squeeze down into a job cannon and fire into job land, where jobs grow on little jobbies.
Conan O'Brien's 2011 Dartmouth College Commencement Speech
Despite graduating from Harvard, Conan managed to refrain from joking that these kids, with their paltry Dartmouth degrees, would do nothing more than pump gas for a living. Good boy, Conan.
Jim Carrey's 2014 Commencement Address at Mahashari University
I've never heard of Mahashari University, but they were able to get this real gem out of the former Pet Detective. Fun fact, the Mahashari University School of Management gave Jim Carrey an honorary Doctor of Fine Arts degree. So that's Dr. Mask to you.
So there you go. That's it. Okay, obviously we didn't go through every speech ever. But these are a few that made us laugh and think at the same time, and left us feeling a little more motivated than we were going into it. But congratulations to all of our Tanks Nation graduates out there, and best of luck on your future endeavors.
Just, don't forget, you're can be too cold to rock a tank, but never to old to rock a tank.
Monday, May 4, 2015 11:14:16 PM America/New_York
You've almost made it. Decision day has come and gone, you've updated your Facebook, Instagram, and Twitter with State U '19 (well, maybe we'll make it an even '20), and, of course, you've filled your drawers with your schools tank tops to wear over summer session and into next school year…you're ready! …right?
No.
Not even close.
But no need to fear; we here at College Tanks are here to supply you with some real serious life pro tips that will have you walking into your first day at school like a savvy vet.
There are 'magic toilets' around campus.
There are toilets around campus that no one knows about. It will be clean, it will probably have two-ply toilet paper, and it will likely be the closest experience you will have to your porcelain palace back home. Find it. Cherish it. And tell no one of its existence. This may sound like a joke, but you'll see.
Don't buy your books at the bookstore.
First, wait a bit and see if you absolutely NEED the book for the class. Every professor teaches classes differently and some may not even use the assigned book at all. If you do need the book, avoid the book store at all costs. It's the biggest scam running. Try Amazon or Chegg first, or see if someone who took the class before is willing to part with it at a price that's slightly higher than the Pawn Stars offering that bookstores will offer you when you try to sell them back at the end of the semester. Take the money '2you saved and buy a new tank top, you deserve it.
Learn to make some easy meals to avoid the all-too-real "Freshman 15" or "Freshman Going Broke"
I made that last one up. It's not as catchy. But I digress....Cheap food. Healthy food. Quick food. Pick 2. And when delivery fees don't include the tip, your $6 order in is slowly approaching $11.
When it comes to sleep, choose your battles wisely.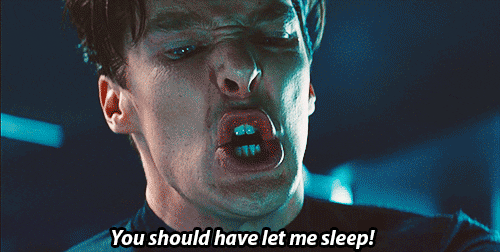 You won't function well without sleep. Very rarely is an extra two hours of Call of Duty worth trying to get through a Chem lab on 3 hours sleep. Now, if you're having a pledge party with the DG girls, that's a different story…
Get out of your comfort zone.
College is all about growing and developing as a person before you actually have to be a 'real' person. Do things you're not comfortable with, be it as small as introducing yourself to the cute girl in your class or as big as running for president of your entire freshman class. Everyone else is as clueless and terrified of the changes happening as you are and, the sooner you get comfortable with your new environment, the sooner you'll start having the 'real' college experience.
Do your work!
It's shocking that this even has to be said, but it does. College is a lot of things. But at its core, it's for learning, enrichment, and betterment. Do your homework. Study for you exams. And GO TO CLASS. You (or your parents) are paying a lot for this, get the most out of it. It's way better to be the well balanced person who can have a great time while still killing it in class than the person who has a great time, sleeps in all day, and ends up on academic probation within 6 months of graduating high school.
So congrats on getting in and picking your school. You made the right choice. Hopefully some of these things will help you out your first couple weeks on campus.
And keep your eyes open for that secret bathroom.
Friday, May 1, 2015 10:08:01 PM America/New_York
LSU T-Rex Kid
We didn't know that LSU's science department was about that Jurassic Park life, but the proof is in the pudding...apparently there are actually some people stranger than Les Miles in Baton Rouge. This clip was taken during the November 2013 SEC powerhouse matchup between #13 LSU and #1 Alabama after LSU scored its second touchdown to cut the Crimson Tide lead to 3. And, although Alabama went on to defeat the Tigers 38-17, it's fair to say that the T-Rexgers had a small victory that day against extinction.
Female Alabama Fan Going All Out Luchador
Alabama is normally known more for their southern bells and less for their southpaw brawlers, but this girl just wasn't having it at the 2014 Sugar Bowl between #6 Oklahoma and #7 Alabama. She was clearly upset with the Oklahoma win 45-31 win over her Crimson Tide and figured she'd go full Rey Mysterio on this poor guy. She was restrained by her fellow Crimson Tide fans shortly after this top-rope frog splash, but Chun-Li wasn't done yet...
Stop Girl
Her legend precedes her, ladies and gentlemen, the insta-meme "Stop Girl"! During a September 2010 matchup between #9 Iowa and the Stop Girl's alma mater, the #24 University of Arizona, Iowa had just scored its 20th straight point to tie the game up at 27 when the cameraman found a young girl upset as her team squandered away what was once a dominant lead. The Wildcats must have felt her optimism rise as her frown turned into a smile and a non-explative four letter word came out of her mouth, as the University of Arizona went on to beat the top 10 Hawkeyes 34 to 27...and a cult legend was born.
(Editor's Note: There are some camps out there that believe she is in fact saying "No!" to which we say that is ridiculous, and has been proven false. So just "Stop!" with that.)
The ASU Animal Twerk Team
ASU has taken distracting free throw shooters to the next level, as shown by their use of the "Distraction Curtain." They have plenty of good ones, butthis particular distraction takes the cake, when, as in-state rival Arizona stepped up to the free throw, the Distraction Curtain was thrown back to expose 5 twerking animals in tutus. Arizona made this particular free throw, making this less of a distraction and moreso a piece of performance art. But it wasn't all for naught, ASU won the game 81-78, with Arizona missing 6 of 14 free throws.
Slightly Upset Iowa State Fan
I'm not quite a lipreader, but I think he's saying something along the lines of "I disagree with your assessment of the game!" This came in February 2013 as Iowa State, just 30 seconds away from knocking off #6 Kansas at home, had some calls that didn't go in their favor in route to a 108-96 overtime loss. His buddy's reaction to the on-air opinion almost warrants honorary legend status too.
Fanny Pack and the Gonzaga Gunslinger
Okay, there's a lot going on here, and I have a newfound respect for the Gonzaga fanbase. Let's start with the chick dancing on the right, as SHE'S ROCKING THE FANNY PACK as she does the classic 'finger point to the camera.' Here at College Tanks we're huge advocates of the fanny pack. LEGEND. But then we get to the real legend of the gif, the dude in the Gonzaga jersey who, not to be outdone by Fanny Pack's finger pointing, is FINGER GUNNING THE CAMERA, bring a little wild wild west flair to Spokane. Also, he somehow attached keys to his gym shorts? Should've gone with the fanny pack, bro
.
Duke Speedo Guy
The original college fan legend. I could go into the lore of Duke Speedo Guy and how he single handedly won the game for Duke in their 2003 matchup vs UNC, but ESPN, recognizing a true LEGEND, did a story on it here. Just check it out.